Here in Oregon, Rosé wines are not the sweet bombs you may equate to these refreshing pink drinks. These elegant, sparkling and crisp wines pair well with food and friends. So, hop in the car for an impromptu wine country weekend—it's time to see the summer through rose-tinted glasses (and we do mean wine glasses).
Where to Find Sparkling Rosé in Tualatin Valley
Apolloni Vineyards Estate Sparkling Rosé, sourced exclusively from their estate-grown Pinot Noir, is a traditional Italian-style sparkling wine. Apolloni also produces a budget-friendly sparkling, NV Rosé Bubbles, which is available for $25.
Cooper Mountain Vineyards, a biodynamic and organic winery, recently released its 2021 Life Sparkling Rosé of Pinot Noir, which is made with no additives, chemicals or sugar. It's "sunshine in a glass."
Hawks View Winery also recently released its own 2021 sparkling Rosé, which is made from its best estate-grown Pinot Noir grapes.
Ponzi Vineyards Winery is the place to find a satisfying sparkling. Its 2017 Sparkling Brut Rosé is a popular wine, as its méthode champenoise (Champagne method) is rather irresistible.
Raptor Ridge Winery also used the Champagne method to create its Sparkling Brut Rosé, made from Pinot Noir grapes.
Pink! Rosé Wine Festival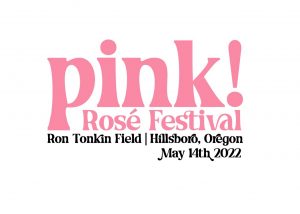 Do you love Rosé?  Don't miss first Pink! Rosé Festival, which kicks off spring wine season with a fun-filled day of rosé sipping at Hillsboro's Ron Tonkin Field (home of the Hillsboro Hops). Enjoy new and limited-release rosés from 15 Tualatin Valley wineries in a fun and casual environment (think backyard barbecue – in the backyard of America's favorite pastime).
Pink! Rosé Festival
Saturday, May 14, 2022, 1-4pm
Ron Tonkin Field | 4460 NE Century Blvd, Hillsboro, OR
pinkrosefest.com
This event is open to adults ages 21+ only
Tickets are $40 per person and includes six (6) tasting tokens and a commemorative wine tumbler (additional tasting tokens and food will be available for purchase). Buy tickets >>>
Enjoy the sparkling tastes of Tualatin Valley's Rosés. Cheers!
Save