Many communities throughout the state will have events commemorating this historic holiday.
Juneteenth National Independence Day (June 19) commemorates the emancipation of enslaved people in the U.S. The holiday was first celebrated in Texas, where on that date in 1865, in the aftermath of the Civil War, slaves were declared free under the terms of the 1862 Emancipation Proclamation. In 2021, Juneteenth was established as a federal holiday. That same year, it was established as an Oregon state holiday*.
Washington County Juneteenth | Hillboro/Orenco Station | June 17 | 12-6:30 p.m.
Celebrate Juneteenth at this event at Jerry Willey Plaza, featuring food, music, speakers and vendors of Black-owned businesses. DJ Scipio kicks off the event, and additional  performers include the Century High School Drum Line, Sebe Kan, Nik Whitcomb, Zelos Marchandt, Hip Hop HIITS, Melissa Lowery and line dancing with Taylor Gee.
The free event is sponsored by Washington County Chamber of Commerce's Black Advisory Business Council.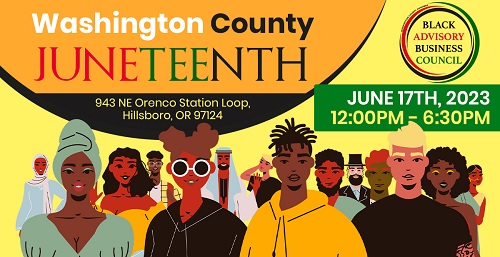 Support Tualatin Valley's Black-Owned Businesses
Can't make the event? You can support Tualatin Valley's Black-Owned Businesses year-round.
Winery
Abbey Creek Winery, winery tasting room featured in Food & Wine and Wine Enthusiast magazines
Food Carts and Restaurants 
Retail Shops
Beaverton Farmers Market Finds + Online Retail
*This year, Juneteenth is observed on Monday, June 19, and some businesses may be closed