As you walk the main streets of Tualatin Valley's cities, keep an eye out for beautiful works of art in the most unlikely of places. Over the last 15 years, a variety of murals, some as large as billboards, have been painted on the side of buildings bringing pops of color to the city streets.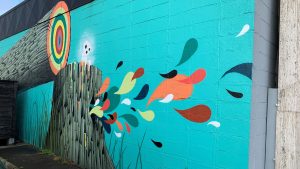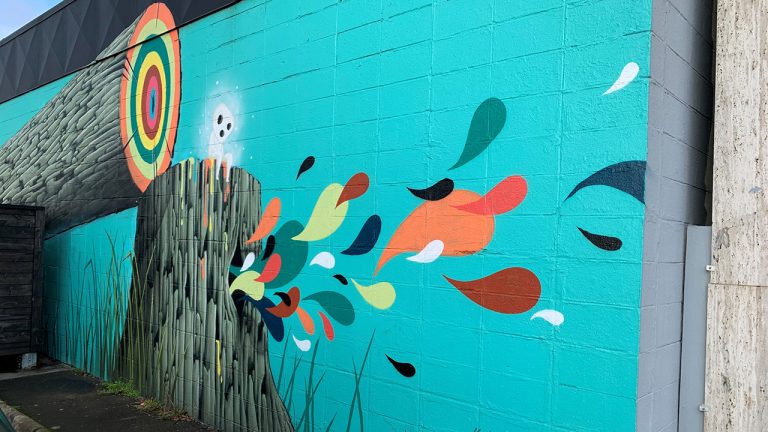 Forest Grove Murals
On the corner of Main Street and Pacific Avenue in the City of Forest Grove, you can find one of the newest art installations of Travel Oregon's Oregon Mural Trail. Depicting an enchanting view of the Tualatin Valley, this mural is based on Travel Oregon's whimsical Only Slight Exaggerated advertising campaign. The billboard-sized mural was painted by Beaverton artist Holly Henderson and celebrates Forest Grove's and Tualatin Valley's rich wine history.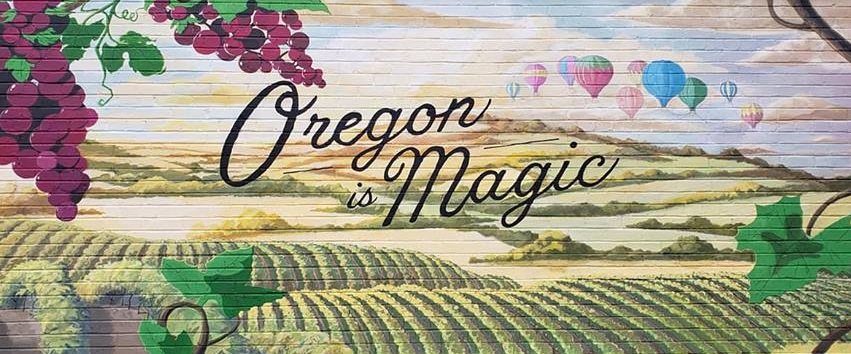 Tigard 
Debuted in July of 2019, Downtown Tigard's mural paints a picture of the city's rich history. Located directly adjacent to the popular Fanno Creek multi-use trail, this mural was painted by Jeremy Nichols with the help of local historian, Sean Garvey and ecology specialists in the city. The mural depicts a member of the Kalapuya tribe, the indigenous inhabitants of the Tigard area, alongside native flora and fauna, including Red-tailed Hawk, Western Painted Turtle, Great Blue Heron and Oregon Iris and Camas flowers.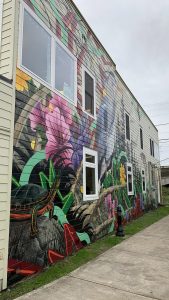 Beaverton 
The City of Beaverton is full of murals as part of the public art mural program. Since 2009, local artists have been commissioned by the Beaverton Arts Program to create beautiful works of public art for travelers and locals alike to appreciate. Walk along 1st Street in downtown Beaverton and you will find four separate murals on the sides of local businesses. Other installations can be found in Downtown Beaverton at:
North Facing Wall at 12475 SW 1st Street – Wilson Mural
South Facing wall at 12590 SW Broadway Street – Hernandez Mural
12412 SW Broadway Street – "Broadway Street: 1910 – 1920"
East facing wall at 12570 SW Farmington Road – Rather Severe Mural
North Plains
The City of North Plains commissioned local artist Allison McClay to paint the six murals that appear on four warehouses on Northwest Commercial Street. Using a collection of old photos from the North Plains Historical Society, the artist brought North Plains history to life. The large murals depict the rich past of the city including the historic train station and trains, local businesses and daily life.
Hillsboro 
At the corner of Northeast 3rd Avenue and Northeast Lincoln Street, spectators can see the sight of a new Hillsboro mural. Megan Simmons, owner of Decadent Creations and Collective Kitchen in downtown Hillsboro worked with local Forest Grove artist Marcella Kriebel to create the mural full of colorful fruits, vegetables and flowers, with a quote from chef and native Oregonian James Beard: "Food Is Our Common Ground."
Sherwood 
This mural is on the side of Symposium Coffee on Southwest Pine in Sherwood. Angelina Marino-Heidel, who lives in Portland, was chosen as the artist. The mural depicts three old cars, cattle, waterfowl (representing the wildlife refuge) and even goats.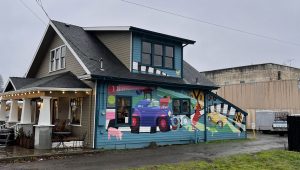 With new murals popping up all over, there is always something new to see on your Tualatin Valley adventure.