Nothing says "physical distancing" like a stroll through a garden on a warm summer day. Oregon is known as a great destination for hiking and while there are a multitude of trails to trek, don't forget to stop and smell the roses … or whatever flowers may bloom!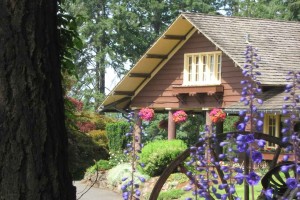 Tualatin Valley is home to dozens of gardens, from garden centers where you can stock up for you own backyard or an oasis in an unexpected spot. These hidden gems are open dawn until dusk for the perfect escape.
This former Masonic Lodge turned boutique hotel is known for its history and quirks. While the building itself has a unique story, there's plenty to explore on the grounds as well. Whether you're staying for the night or just popping in for a pint, you can take a stroll through the Grand Lodge Gardens and see the hard work gardeners and horticulturists put in to maintaining it year round. While you're there, enjoy a meal at the Ironworks Grill.
The 68-acre revitalized country estate on Cooper Mountain has amazing views of the surrounding Tualatin Valley. It's the perfect spot for a walk in the woods or a wedding. The grounds feature plenty of wooded natural growth to explore around the landscaped garden. Wander through the 1.6-acre rhododendron garden, rock gardens and even an herb garden with lavender, rosemary, chives and thyme. The rhododendron garden features more than 700 plants and 600 varieties.
This 61-acre park in Hillsboro features scenic wooded areas, trails and meadows as well as playgrounds and picnic areas. Within the park is the Lloyd Baron Rhododendron Garden, which is home to more than 176 species and hybrid rhododendrons.
If you want to get away from it all and soak in all of nature's beauty, seek out one of Tualatin Valley's gardens.