U-Pick Your Way Through Tualatin Valley
U-pick season is just beginning as an assortment of berries ripen in Oregon. From May through October, freshly grown berries, lavender, and other fruits will be available at farms throughout Tualatin Valley for u-pick and ready-pick. Here are just a few of the farms where you can enjoy the bounty of Tualatin Valley.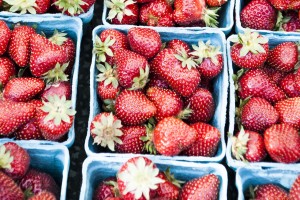 Smith Berry Barn
In Hillsboro, Smith Berry Barn offers u-pick of over 20 varieties of berries from late May through early October. The farm store is open to the public and offers fresh u-pick and ready-picked berries gourmet gifts, honey, jams and preserves, teas and spices, and flowers and hanging baskets. Online reservations are currently required for u-pick in the fields. Boxes will be provided for picking. Starting in September, the orchards open for apple and pear u-pick. Curbside pickup of berries and other store items is also available throughout the berry season. Open Tuesday – Sunday, 10 a.m. to 5 p.m.
Hoffman Farms Store
The Hoffman family has been farming in Oregon for six generations. Located in Beaverton, this family-friendly farm offers a variety of berries available this summer. The u-pick fields are open for picking and the family store is stocked daily with ready-picked fruit and homemade pies. Hoffman Farms asks patrons not to bring their own boxes. Cardboard boxes of various sizes and price points will be provided for u-pick. Open Monday – Friday,  9 a.m. to 6 p.m. and weekends 8 a.m. to 5 p.m.
Rowell Brothers Berry Farm
A selection of raspberries, blackberries, blueberries, boysenberries, loganberries and marionberries are available for u-pick and ready-picked at the Rowell Brothers Berry Farm in Hillsboro. Flat rate containers will be available for purchase before heading out to the fields for berry picking. The farm is open daily, 9 a.m. to 6 p.m. through August.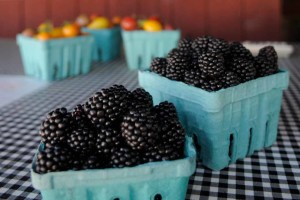 Muir Blueberry Farm
Oregon blueberries will be bountifully available for u-pick throughout July at Muir Blueberry Farm. This bike-friendly farm is the perfect stop on a family bike ride in the countryside. Open daily, 7 a.m. to 8 p.m.
West Union Gardens
Each year, West Union Gardens grows more than a dozen varieties of berries on its farm in Hillsboro. All varieties are available in the farm stand as well as u-pick fields throughout the summer months. Open 8 a.m. to 8 p.m., Monday – Saturday, through August.
Lee Farms
Located in Tualatin, this seventh-generation family farm offers a country store with fresh donuts baked daily and a wide selection of produce, jams, honey and seasonal decorations available throughout the year. A selection of fresh ready-picked berries will be available in the store throughout the summer as well as u-pick "Shuckson" strawberries. Online reservations are currently required for u-pick in the fields, as well as farm grounds visits to see the farm animals. Open daily, 9 a.m. to 6 p.m.
Mountainside Lavender
More than 20 varieties of lavender are available for u-pick at Mountainside Lavender. Walk down the rows of lavender for the perfect bunch and then browse farm-made lavender products on display outside of the quaint cottage. Open daily, 9 a.m. to 5 p.m. through July.
Helvetia Lavender Farm
On a hillside in Hillsboro, the Helvetia Lavender Farm & Market offers visitors u-pick and ready-picked lavender the first two weekends in July. Wander through the lavender fields, watch lavender distillation and wreath making demonstrations, and shop local artisan vendors. Two-hour time slots are available by online ticket reservation only. Open July 3-5 and 10-12 only, from 9 a.m. to 5 p.m.
All farms ask that visitors wear face masks or coverings, practice social distancing, and use hand washing stations when going into and coming out of the u-pick fields. Please check farm websites for fruit availability and updates to their u-pick season before heading out to pick.
Guidance from the Oregon Health Authority and Oregon Department of Agriculture regarding U-pick farms >>>
Please note: Face coverings are now required in all public buildings and outdoor spaces where you can not maintain physical distancing from people outside your household. Remember to dispose of masks and gloves in the trash.