As the days get chillier, we're always looking for ways to warm up and get cozy. It's officially soup season and Oregon's Tualatin Valley has a range of restaurants serving up delicious and warming meals.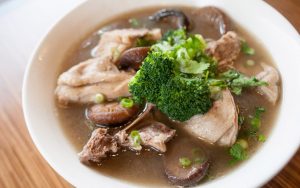 Order a bowl of Afuri's signature yuzu shio ramen. This light broth is packed with umami ingredients and notes of citrus. The restaurant boasts using the same techniques as its original location near the Afuri mountain in Japan. The menu also includes sushi, dumplings and more. Afuri is now open for indoor and outdoor dining and takeout. 
This family business in Beaverton is known for its extensive Vietnamese menu, including Phở, a beef noodle soup in a broth that takes hours to make with star anise, ginger, cardamom, coriander, fennel and clove. This is also one of the only places to get Vietnamese dumplings in the area. Tân Tân Café is currently open for takeout only. 
This highly acclaimed Taiwanese-based chain is famous for its soup dumplings, which are filled with pork, crab and more. The restaurant has been called the maker of the "world's greatest dumplings" and one of the top 10 restaurants in the world. If that's not enough to convince you to try it, Din Tai Fung also serves a variety of soups, noodle dishes and fried rice. Din Tai Fung is open for reservations and takeout.
Don't be deterred by the idea that this is a bar. The 649 serves an impressive menu including charcuterie boards, pulled pork nachos and an always tasty soup du jour the regulars love. During the early days of the pandemic, The 649 offered a rotating pay-what-you-can soup kitchen, which continues for anyone who needs it. Options have included beef barley, chili, minestrone, southwest corn chowder, chicken and rice and more. The 649 encourages reservations for indoor and outdoor dining.
If you're looking for something to warm you up on chilly fall and winter days, look no further than these great restaurants that are always ready for soup season in Tualatin Valley.