There are miles and miles of bike paths in Oregon's Tualatin Valley, making cycling a popular activity throughout the year. We have trails for all skill levels and across all types of terrain. There are urban trails and paths that will take you through the scenic parts of the valley. Even better — there are paths that will take you right to some of our favorite coffee shops for a mid-ride pick-me-up.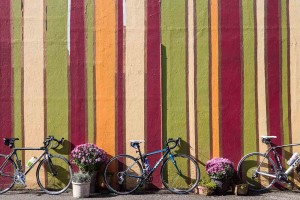 Fanno Creek Trail to Symposium and Lionheart
The Fanno Creek Trail covers more than 18 miles across three cities — Beaverton, Tigard and Tualatin — making it a perfect ride for an hour or a whole day. You can hop on the trail at various points along the way and find parks, playgrounds and several coffee shops to stop and refuel. If you're starting in or passing through Beaverton, be sure to stop near SW Scholls Ferry Road for Lionheart Coffee. You'll find friendly staff, great coffee and tasty pastries as well as light breakfast options. Lionheart features different local coffee roasters each month, showcasing the best of the Portland area's coffee scene. The Scholls location has plenty of outdoor seating to relax while you take a break from your ride. Keep moving south and you'll hit Tigard, where Symposium Coffee is ready and waiting. The shop recently launched its own line of coffee beans and whips up some of the best drinks around. Try a lavender, rose or caramel latte made with house-made syrups. Symposium doubles as a whiskey bar if you need something a bit stronger than coffee after a long ride. Symposium is also located at the head of the Tigard Street Heritage Trail and Tigard Outdoor Museum, which is a short trail speckled with history and artwork showcasing Tigard's cultural history.
Westside Regional Trail to Ava Roasteria
The Westside Regional Trail — also sometimes referred to as the Powerline Trail — connects neighborhoods from the Tualatin Hill Nature Park to the Murrayhill/Progress Ridge area in Beaverton. The trail is paved and popular for cycling, walking and running. There are playgrounds and open fields along the way but the real treat is a stop at Ava Roasteria. Grab a drink and enjoy the view of Progress Lake or take your break at Barrows Park along the trail. Either way, Ava Roasteria's coffee, made with beans fresh roasted right here in Beaverton, is sure to provide you with energy for your ride. Enjoy freshly baked pastries and handcrafted sandwiches as well.
Forest Grove to Coast Range Tour and Telvet Coffee 
The Forest Grove to Coast Range Tour is a challenging ride that showcases how Tualatin Valley is nestled between Portland and the Oregon Coast. The 36-mile loop features good elevation gain for a challenge but plenty of stops along the way. It will take you around Henry Hagg Lake and through downtown Forest Grove. Hagg Lake and Scoggins Valley Park offer a wide range of recreational activities in addition to cycling. Make a day of it or just ride the loop around the park and enjoy the views. In Forest Grove, you'll find Telvet Coffee, which is located in a historic building. House-roasted beans and specialty drinks like frappes and bubble tea, make Telvet a great stop mid-way through a tough ride. Telvet also serves breakfast.
Whether you're looking for a long or short ride, a challenge or a leisurely ride there are options and great places to stop for coffee. Oregon Tualatin Valley has it all and cycling is a great way to see the region and find some hidden gems.