Oregon's Tualatin Valley is home to a plethora of livestock farms, which means it's not hard to find fresh meat, eggs and dairy products. A drive through the scenic agricultural areas of this part of Oregon will give you a great show of cows, horses, sheep and more, but those furry long-necked guys you see out there aren't llamas — they're alpacas!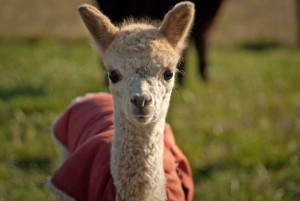 Alpacas area a relative of the llama but smaller and with a shorter face and smaller ears. Alpacas are bred for their hair mainly, and the fiber is much finer than llama's.
Shop Alpaca Products 
Head to Alpacas of Oregon in Sherwood to shop for exquisite alpaca products including yarn and items imported from Peru. At the Barn Store, you can get hand-knit scarves, hats, socks, vests, sweaters and even Teddy Bears. Stoneberg Alpacas also has an on-site store to get your alpaca fix.
Alpaca Farm Getaway 
In the heart of Tualatin Valley's farmlands you'll find a quaint farm-stay at Alpaca Farm & Gardens. This unique experience allows you to stroll through gardens and hand-feed alpacas at one of the United States' first alpaca ranches. There are five accommodations, from a cozy studio to a three-bedroom option. Book a stay >>> 
You probably didn't know there was so much alpaca fun to be had in Oregon's Tualatin Valley! Plan the perfect getaway in farm country