It's almost that time of year when Tualatin Valley will become a kaleidoscope of vibrant pinks, reds, yellows, oranges, purples and shades of green. For your own nature getaway near Portland, use our list of the best places to see wildflowers in the Tualatin Valley.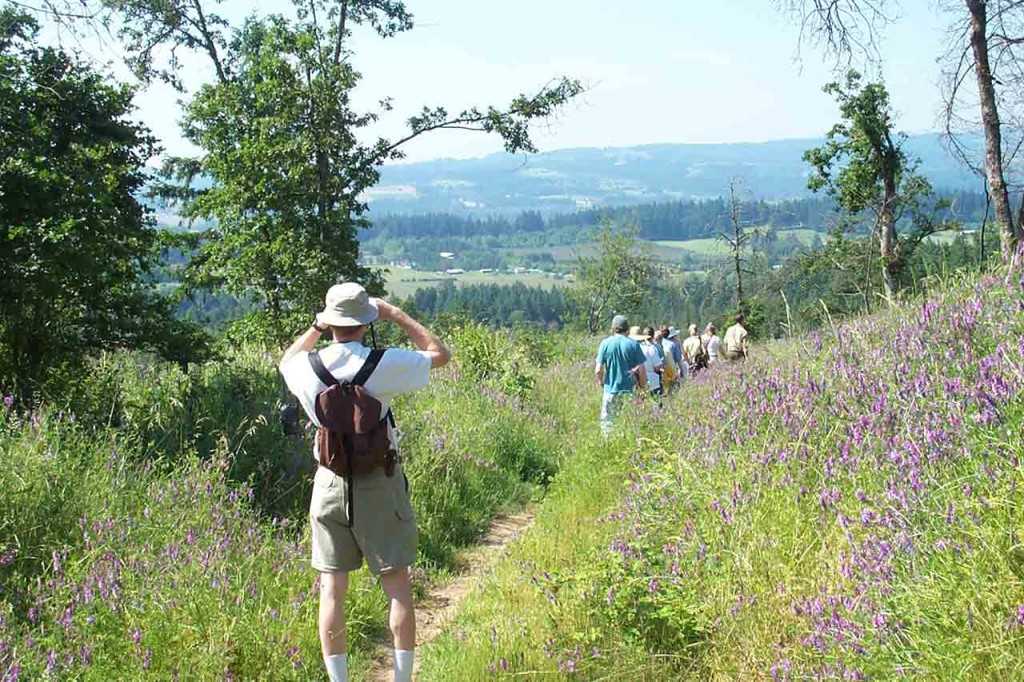 Vineyard and Valley Scenic Tour Route
Spring is a lovely time to explore the 60-mile Vineyard and Valley Scenic Tour Route, a driving tour of Tualatin Valley's agricultural landscapes. During spring months, especially late-spring, you'll round a corner and—whoa!—a delightful red clover field will come into view. It's a truly breathtaking scene. One of our favorite clover fields can be spotted along Helvetia Road, just north of Highway 26.
Cooper Mountain Nature Park
With well-loved and well-traveled trails, Cooper Mountain Nature Park is a hot spot for wildflower lovers each spring. Along the park's Little Prairie Viewpoint, hikers will not only be rewarded with views of the Chehalem Hills, but also hyacinth cluster lilies and western geraniums. Late-season loveliness comes in June with the blooming of white rock larkspurs.
Banks-Vernonia State Trail
While the Banks-Vernonia State Trail is largely paved, the nature that surrounds the path is still untethered lushness. Cyclists, hikers and horseback riders will come across wildflowers during their 21-mile journey of the trail. The scent of newly sprung flowers is beautifully matched by the songs of birds who are hanging out in the trees.
Rood Bridge Park 
As the largest and most diverse park in Hillsboro, Rood Bridge Park is an oasis for nature lovers, outdoor enthusiasts, gardeners and photographers alike. The 61 acres of walking paths weave through wetlands adjacent to the Tualatin River—home to happy ducks and western pond turtles—and enchanting wooded areas—the perfect resting grounds for pacific dogwood and native wildflowers.
Where will you get your wildflower fix in the Tualatin Valley? Share your flowery finds with the #tualatinvalley hashtag.