It's no secret that the Portland Region is a cycling-friendly city with some of the most well-known craft brewers in the country. But did you know Tualatin Valley also is a haven for cyclists? If bikes and brews are what draw you to Portland, explore Oregon's Tualatin Valley for a biking and beer weekend. In Tualatin Valley, there's a plethora of not only breweries, but also of excellent bikeways.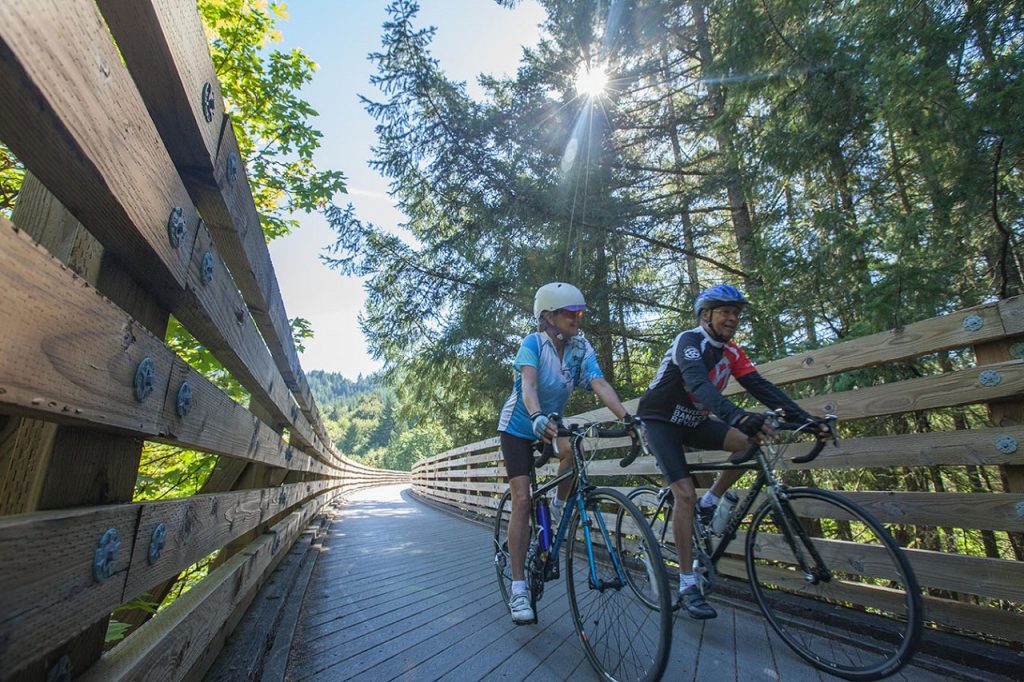 Take a Leisurely Ride in the City of Tualatin
For a pleasant paved ride, head to Tualatin to ride along the Tualatin River Greenway Trail. Starting at the Durham City Park trailhead, this 6.7-mile urban trail connects a network of parks and greenspaces along the Tualatin River. Part of the trail—located behind the Tualatin Public Library—features interpretive signage about the Ice Age and Missoula Floods that impacted the area.
After the ride, head over to Stickmen Brewing Company Tualatin Beer Hall for a pint and wood-fired pizzas made on-site. Stickmen brews a variety of beers including sours and experimental brews. Or head over to Ancestry Brewing, also in the city of Tualatin, and sample their brews, which they craft in their "Three Pillars" of beer styles: American, English and Belgian.
Cycling Opportunities for Advanced Riders Near Forest Grove
Experienced cyclists can embark on an invigorating ride along the Hagg Lake Loop at Scoggins Valley Park. This 10.4-mile ride loops around Henry Hagg Lake and provides a scenic, rural ride with minor (<500-feet) elevation changes.
After the ride, head to downtown Forest Grove to enjoy a meal and a beer at Ridgewalker Brewing. The menu is chock-full of hearty entrees, and it also features 34 taps of wine, beer and cider from around the region, including several beers from Ridgewalker's on-site brewery.
Fun on the Fanno Creek Trail
Stretching between three cities—Beaverton, Tigard and Tualatin (for more than 18.6 miles)—the Fanno Creek Trail provides ample opportunities to explore Tualatin Valley's prime cycling and nature walks in a relaxed environment.
Just off the trail, stop at Tigard's Main Street and visit Cooper Mountain Ale Works (previously Max's Fanno Creek Brew Pub). They brew a wide range of craft brews at their on-site brewery, which pair well with their menu of burgers, sandwiches, pizza and more.
A biking and beer weekend near Portland is one way to turn your Portland adventure into an Oregon adventure.